Prizefighter Recap - A Quick Buck to Make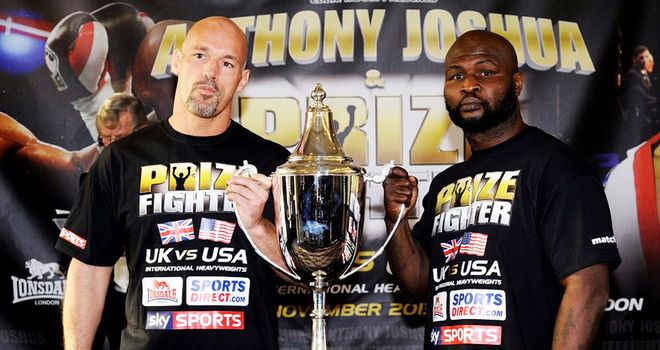 In the famous York Hall last night, boxing fans across the globe were treated to a farce of enormous proportions, as "Prizefighter: The International Heavyweights" was broadcast to a reluctant audience, many tuning in to catch a glimpse of a very, very old legend. In it's premise, it did not disappoint.
The circus act began before the first bell even rang, as former drugs cheat Larry Olubamiwo was pitted against American journeyman Jason Gavern, who launched his bizarre personality on the crowd with an awful Ric Flair impression. 16 seconds after the first "ding", Olubamiwo was on the canvas with a cuffing left hook, and quickly sprang to his feet after the count. The Brit's shorts were hiked up to his nipples, rivaling Simon Cowell for the worst sense of dress. After a scrappy first round, both men engaged in wild, slothenly swinging hooks long after the first bell, reinforcing this constant ambiance of a pub brawl. Gavern went on to secure the decision over Olubamiwo, and in his post fight interview proclaimed a desire for pizza in his locker room.
The main event of the night wobbled into the ring as the man formerly known as James Toney. No doubt a legend of the sport for his exploits as much younger man, including infamous battles with Roy Jones Jr and a FOTY performance against Vassiliy Jirov, last night we were treated to a blob of a man, often clowned and outworked by near novices of the game.
Toney at times did show a few signs of his old self. He slipped punches, countered beautifully, even showed a little power in his crisp right hand. But all this was against the most pitiful of competition, and despite this, sycophantic adulation and praise was showered upon the American by The Usual Suspects.
Indeed, Watt and Halling could've been a comedy duo to rival the likes of Abbott & Costello and Laurel & Hardy. The absolute drivel conjured up by Watt in claiming that Toney "Still has a lot to offer" after beating a 6 fight novice in 3 round fight would be less painful to hear if it actually were scripted humour. Halling chipped in with facetious nonsense at times, calling the odd fighter a "Classy Operator", "Oozing class" or some bizarre variant. Before the Semi-Finals commenced, we were gleefully informed by the pair that the average age of the remaining combatants was 39. A fantastic sale, gents!
The real icing on the cake was trotting out an
actual
legend of the sport in the incomparable Larry Holmes, and having him stand between more sycophantic lackey's in the form of Glenn McCrory, David Price and Johnny Nelson. Between fights, poor Larry was given a microphone and asked what he thought of such "great action". Glen would occasionally chip in with an awful grin on his face, claiming that the men in the ring "didn't possess the jab of a Larry Holmes". It was cringe TV ground down into powder form, and dusted across the long reaching fields of fans. The problem is, who could really accept this?
Prizefighter has always been about inviting more casual fans of the sport into enjoying an easier on the eye night of boxing. The 3 round format tends to beget aggressive styles and thus more enthralling fights. The promise of a famous name or two attracts a greater television audience, with many from the US tuning in to see this Matchroom staple. I was at great debate with many people on Twitter, who mostly agreed that this show was going to be a farce, but regardless, it would secure the all-important ratings. Indeed, the viewing figures were likely through the roof, but this can only serve as a negative in the long run for British boxing as a whole.
Those who did tune in left with a sour taste in their mouths. I have yet to see a single positive comment about the show that didn't revolve around how "hilarious" it was. Should a boxing show, promoted as being a serious contest between 8 tough veterans and novices alike, be praised for providing laughs? It entertained and enthralled, but only in the sense of police car chase, or the demolition of a building. Cheap thrills for all the wrong reasons.
Many now view Hearn as part of the problem, trotting out delusional and punch-drunk fighters like James Toney into a world of more potential pain and future complications. Sure, he got a lot tuning in to his brand last night, and he got to showcase rising star Anthony Joshua to a larger audience, which was likely the plan all along. But this, along with a string of poor judging decisions in 2013, are part of growing concerns for Sky and Matchroom, and a myriad fans, international and homegrown, are starting to see beyond the thin veil of a "new age" promoter. Instead, they see just the usual - a man working the controls of a business, which will stop at nearly nothing to make a quick buck.